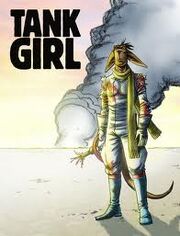 A mutated kangaroo
, formerly a successful toy
designer of "products Santa
would've sacrificed a r
eindeer
for," and presently Tank Girl's devoted boyfriend. She met him when he snuck into her tank one night to pinch a pair of her underwear
. He is a big Dame Edna
fan and once impersonated Bill Clinton.
Booga, often against his will, always does the cooking, particularly the great British institution of tea
. He follows Tank Girl everywhere and does, by his own admission, whatever she tells him. This includes murder.
Relationships
Edit
Tank Girl - Currently dating
Sub Girl -
Jet Girl -
Barney -
Boat Girl -
Ad blocker interference detected!
Wikia is a free-to-use site that makes money from advertising. We have a modified experience for viewers using ad blockers

Wikia is not accessible if you've made further modifications. Remove the custom ad blocker rule(s) and the page will load as expected.